*Sorry for the sad and graphic photo but people seriously need to get this through their heads!
Just because a animal has fur does not mean they will stay warm. Once a pet's fur is wet and cannot dry it will freeze and eventually your pet will succumb to the elements. Does not matter if it is short fur or long fur the outcome is the same.....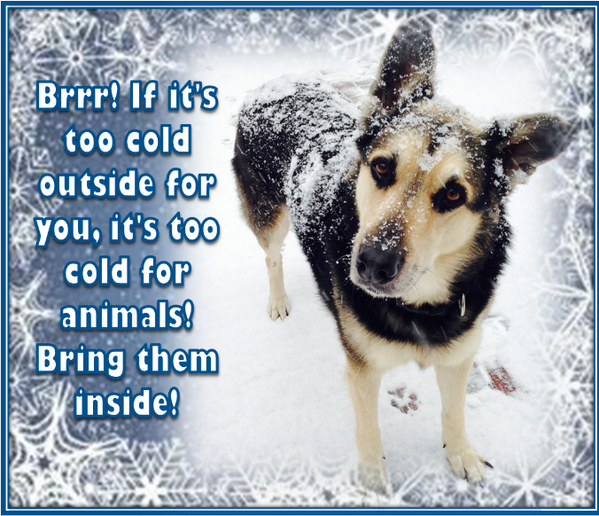 If you must keep you pet outside for whatever reason here are some tips:
Provide shelter.
A store-bought dog house or homemade one will due but make sure it has the following:
-Make sure the opening/doorway of your dog house is facing south due to the fact that the coldest air and wind usually come from the north and northeast during winter.
-Have some sort of flap for the dog to go in and out of to help block cold drafts and snow or sleet.
-Check every few days to make sure bedding is clean and dry be it wood shavings, straw, hay or any material that can't be packed down easily. Avoid blankets, rugs or newspaper.
-Consider letting your dog have access to a garage or outdoor shed to keep warm and sleep is the weather gets to nasty.
-Make sure your dog house is well insulated, airtight and free of drafts. Use sealants if necessary to close up all cracks and holes.
-Make sure dog house is correct size for the size of your dog. Th size of your dog house should allow your dog to sit up completely up and stretch out when lying down.
-Make sure the dog house is elevated and not sitting directly on the cold ground .i.e have the dog house sitting on top of a pallet or thick rubber mat.
-Do not chain your dog outside period! Your dog could get tangled up and not have access to the dog house.
Provide fresh, clean, unfrozen water daily.
If it is cold enough outside for water to freeze consider having a heated dog bowl to keep the water ice free. None the less however physically go outside and check to make sure your pet has fresh, clean unfrozen water 2-3 times a day.
Provide extra food and calories.
Feed your outside pet more food or food with high protein and fat content. Feed twice daily at least.
If it is below 32 degrees or to cold for even your standards just do the humane thing and please bring your pet inside or at least let them have access to a heated garage or outdoor shed/barn.
Please share and spread the word! To anyone and everyone!